INCLUSIVE PROGRAMS :
Pride in Diversity
Australian Workplace Equality Index Tiers :
AWEI Participating
We are BHP, a leading global resources company. Our purpose is to bring people and resources together to build a better world.
Our strategy is to have the best capabilities, best commodities and best assets, to create long-term value and high returns.
At BHP, our products are the essential building blocks of progress, fueling change and lifting the living standards of millions of people around the world. Across our global operations, we are committed to working in ways that are true to our BHP Charter values of Sustainability, Integrity, Respect, Performance, Simplicity and Accountability.
Who We're Looking For
BHP follows four priority areas to accelerate the delivery of a more inclusive work environment and enhanced overall workplace diversity:
embedding flexible working;
enabling our supply chain partners to support our commitment to inclusion and diversity;
uncovering and taking steps to mitigate potential bias in our systems, behaviours, policies and processes; and
ensuring our brand and industry are attractive to a diverse range of people.
These priorities were formed by the Global Inclusion and Diversity Council, chaired by the BHP CEO.
Local Inclusion and Diversity Council's operate in our Asset's and offices around the globe, following the same priorities. Our people are the driving force behind bringing our aspirational goal to achieve gender balance by 2025 to life.
Learn more about working at BHP and the exciting career opportunities that exist for professionals, undergraduates and graduates on our website: www.bhp.com
Where We Are Located: 
BHP has mining operations in Australia, North America, and South America, and petroleum operations in the U.S., Australia, Trinidad and Tobago, and the UK.
We have four primary operational units being:
Coal
Copper
Iron ore
Petroleum
Key Professions In Our Organisation
Search for jobs at https://careers.bhp.com We have a workforce of more than 80,000 employees and contractors working across 90 locations worldwide.
Opportunities
Learn more about working at BHP and the exciting career opportunities that exist for professionals, undergraduates and graduates on our website: www.bhp.com
In 2017, a team from across our global operations came together to form 'Jasper' – an employee resource group for BHP's lesbian, gay, bisexual, transgender, intersex and others (LGBT+) community and its allies. The group's name was inspired by the mineral rock, jasper – known for its unique multi-coloured patterns.
* This characterisation reflects the rich diversity of the LGBT+ community. Jasper is a unique mineral that is found in Australia and other countries that BHP operates. It is an opaque and fine-grained variety of quartz found in all colours. Like the cause Jasper supports, it is a stone of endurance, perseverance, tenacity and shields against negativity. It imparts the courage to speak out against injustice and is a powerful protection stone. *
* CrystalVaults.com and Wikipedia.org
Jasper was formally endorsed by BHP's Global Inclusion and Diversity Council and Executive Leadership Team (ELT) in 2017 and has grown to over 1,500 members (as at December 2020).
Jasper is focussed on strengthening the Company's culture by providing advice on ways to mitigate bias and ensure that LGBT+ people are respected, valued and free from discrimination based on their sexual or gender identity.
We firmly believe that no employee should feel pressured to hide their sexual or gender identity. Research has consistently shown that a significant number of LGBT+ people fear the ramifications of coming out including losing professional connections and reduced exposure to development or advancement opportunities. At BHP, we will take every possible step to remove uncertainty of this nature our LGBT+ colleagues may feel.
In addition to the anecdotal feedback we've had from our employees, formal research from many of the geographies in which we have a presence has consistently shown the benefits of LGBT+ inclusion and the positive impact being yourself at work can have on safety, productivity and culture.
Discrimination and the pressure to conceal sexual orientation or gender identity at work is known to have a major impact on the mental health of LGBT+ people, potentially impacting productivity. There are also clear safety benefits when an employee is not distracted from their work by the need to hide elements of who they are.
Jasper creates a safe space for our LGBT+ colleagues, many of whom enjoy the opportunity to break through geographic barriers to connect with colleagues around the world to share knowledge, professional development opportunities and form lasting friendships.
Over the past two years in Australia, BHP Jasper chapter leads together with Pride in Diversity have visited every coal and iron ore mine in Western Australia, Queensland and New South Wales plus it's copper-uranium mine in South Australia to roll out LGBT+ inclusion awareness and education sessions.
BHP recognises the important role leaders play in creating inclusive workplaces. Leaders attending the LGBT+ awareness sessions are provided with rainbow shoe laces and rainbow lanyards to convey inclusion, encourage respectful behaviour and help connect LGBT+ employees with Jasper.
We continue to recognise days of significance, including IDAHOBIT (International Day Against Homophobia, Biphobia, Interphobia and Transphobia), Wear It Purple Day (awareness day for young people) and Transgender Awareness Week across our global locations.
A number of local Jasper chapters have been established organically, with diverse representation from across our assets and functions. Membership is open to all employees whether they identify as LGBT+ or an ally and to find out more, you're encouraged to email jasper@bhp.com
Jasper is lead by two Global Co-leads, Cameron Tirendi and Jocelyn Galvan and two Executive Sponsors, Laura Tyler and Michiel Hovers.
Jasper has eight chapters across BHP assets and functions.
Each chapter has 2 leads per region, preferably with gender diversity i.e. not two of the same gender.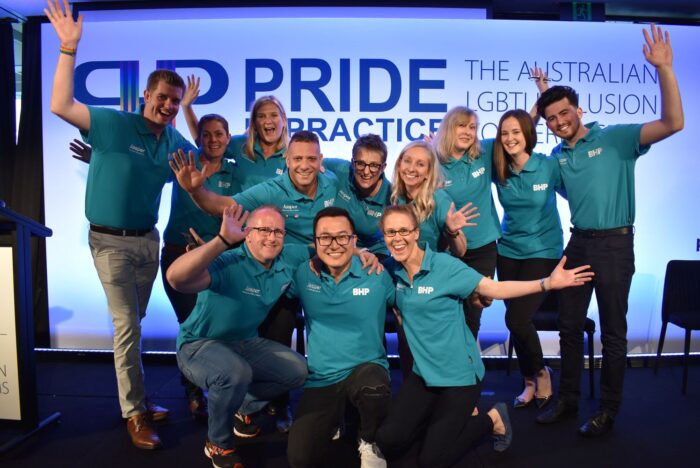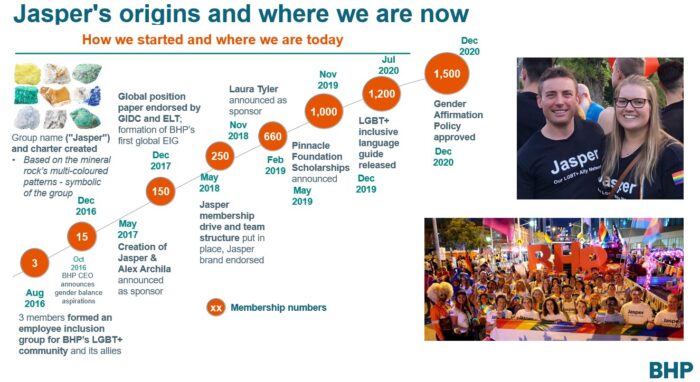 Company Attribute
AWEI Bronze Employer
AWEI Gold Employer
AWEI Participating Employer
AWEI Platinum Employer
AWEI Platinum Qualifier
AWEI Silver Employer
LGBTI Diversity Strategy
LGBTI Employee Network
LGBTI Recruitment Policy
Pride in Diversity Member
Pride in Health Member
Pride in Sport Member
Transitioning Policy for Trans Employees